Rep/Review Opportunities
REP POSITIONS
I am currently a rep for:
Bookside Paper Co.
(formerly Irisellium) --> click
here
to shop!
Kayla makes beautiful laminated (and unlaminated) bookmarks, and is based in the same city as me! She also creates stunning custom bookmarks! I already have 12 bookmarks from her, and cannot wait to get more!
Use
PRETTY15
to save on her products!
Books & Ballads
--> click
here
to shop
From hoodies to phone and pillow cases, their classic, bright designs are great for any book lover! They also make great gifts for the booknerd in your life!
Use
PRETTY10
to save on your goodies!
Cushy Crate
--> click
here
to shop
One of the first ever YA Canadian book boxes, it is all about reading, self love, and comfort!
The book this month is a brand new highly anticipated YA retelling of a classic! It's a twisty story of friendship, betrayal and a girl harnessing the power of her magic, her ocean, and her love. Once you dive in, this book will be impossible to put down!
Items Inspired by:Mermaids, Unicorns, Dragons, Fairies, Game of Thrones, Fantastic Beasts
Code:
PRETTY10
Until the Very End Co
--> click
here
to shop
Their candles are from a wide range of book favourites, fairytale collections, superheroes, and traditional scents!
Code:
PRETTY15
Enchanted Fandom
--> click
here
to shop
Jess has a range of mugs, to wine glasses, to socks, and even fandom boxes!
She just added candles to the shop also!
Code:
PRETTYLITTLE10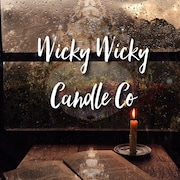 Wicky Wicky Candle Co.
--> click
here
to shop
Caitlin has stunning candles with geniune scents inspired from various fictional worlds and characters. My personal fave is the OTP candle!
Code:
PLL20
Lacuna Candle Co.
--> click
here
to shop
Stunning candles - created with love, magic & glitter!
Code:
PRETTY10
In Your Case
--> click
here
to shop
A variety of colourful stationary items sent to you each month, perfect for writers, doodlers, or readers!
code:
prettylittle15
Ink and Paper Marks
--> click
here
to shop
Handpainted bookmarks, available in a natural or laminated finish!
code:
PRETTY10
REVIEW OPPORTUNITIES
I am always open to reviewing books, including ARCs and newly released books! I typically read YA novels, as well as romance, mystery and fantasy. Please contact through email (or Instagram) for more information. I love being able to share an amazing read with everyone 💗