Rep/Review Opportunities
REP POSITIONS
I am currently a rep for:
Cushy Crate
--> click
here
to shop
One of the first ever YA Canadian book boxes, it is all about reading, self love, and comfort!
SEPTEMBER:
Dark Deeds
The book this month is the first book in a series and I promise you that you've never read anything quite like it before… The plot follows our troubled protagonist who has been betrayed and has to fight her way out of captivity. This dark story will be perfect for lovers of supernatural beings, magic abilities, questionable morals and slowwww burning love interests.
Items Inspired by:
ACOTAR
The Cruel Prince
Six of Crows
Stalking Jack the Ripper
Three Dark Crowns
Code:
PRETTY10
SPECIAL EDITION:
Wildcard by Marie Lu
We are super pumped for the release of Wildcard and dying to know what happens with the Phoenix Riders and EMIDEO. In celebration of this fantastic release, we are curating a box FULL to the brim with HIGH QUALITY items. Most of these items will include EXCLUSIVE artwork to Cushy Crate so don't miss out on this one!!
LitJoy Crate
--> click
here
to shop
Boxes vary from Picture book and Middle Grade level, to Young Adult monthly book boxes and special edition crates! Alix, Kelly, and the whole team are very kind, and I definitely recommend checking out their boxes (or past items in the shop).
Code:
PRETTY15
Beacon Book Box
--> click
here
to shop
I am so excited to assist Cam, Jaden, and the whole team at Beacon Box for the next two months. This new YA subscription box is based in the USA, and has a variety of fun and unique themes for every month.
Code:
LIBRARY10
Until the Very End Co
--> click
here
to shop
Their candles are from a wide range of book favourites, fairytale collections, superheroes, and traditional scents!
Code:
PRETTY15
VIBookcrate
--> click
here
to shop
This Canadian book box company offers monthly Middle Grade book boxes, and seasonal Adult boxes (the next being the Fall box that ships at the end of August!).
Code:
Pretty15
Enchanted Fandom
--> click
here
to shop
Jess has a range of mugs, to wine glasses, to socks, and even fandom boxes!
She just added candles to the shop also!
Code:
PRETTYLITTLE10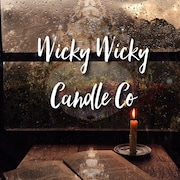 Wicky Wicky Candle Co.
--> click
here
to shop
Caitlin has stunning candles with geniune scents inspired from various fictional worlds and characters. My personal fave is the OTP candle!
Code:
PLL20
Lacuna Candle Co.
--> click
here
to shop
Stunning candles - created with love, magic & glitter!
Code:
PRETTY10
In Your Case
--> click
here
to shop
A variety of colourful stationary items sent to you each month, perfect for writers, doodlers, or readers!
code:
prettylittle15
Ink and Paper Marks
--> click
here
to shop
Handpainted bookmarks, available in a natural or laminated finish!
code:
PRETTY10
Book Boyfriend Box by Bookish Stuff
--> click
here
to shop
These one-time special edition boxes are perfect for Sarah J Maas fans! They are based on Aelin, and will be shipped in October so it will arrive before Kingdom of Ash.
code:
PRETTY10
My Wick of Tea
--> click
here
to shop
Raquel runs a Canadian based candle company for bookish candles based on a variety of fandoms! I highly recommend her Shadowhunters collection!
code:
PRETTY15
The Bookish Shop
--> click
here
to shop
Featuring a combination of tees, totes, candles, and more bookish goodies, the Bookish Shop is your one stop shop for any book lover gifts (for your friend, or for you)!
code:
PRETTYLITTLELIBRARY10
REVIEW OPPORTUNITIES
I am always open to reviewing books, including ARCs and newly released books! I typically read YA novels, as well as romance, mystery and fantasy. Please contact through email (or Instagram) for more information. I love being able to share an amazing read with everyone 💗