Good morning lovelies!
I am proud to share with you today's
Blog Author Feature
: Nicki Pau Preto, hosted by Simon & Schuster Canada. I am currently reading this one, and it is really surprising me.
Book Details:
Title: Crown of Feathers
Author: Nicki Pau Preto
Publisher: Simon Pulse
Release Date: February 12th, 2019
Genres: Young Adult, Fantasy
Author Details:
Nicki is Canadian YA author, living near Toronto, Ontario. With a degree in visual arts, a masters in art history, as well as a diploma in graphic design, she is passionate about art and the wonders of escaping the real world. She is not a fan of 9-5 work days, so thankfully her chosen career covers all those aspects. Crown of Feathers is her debut novel.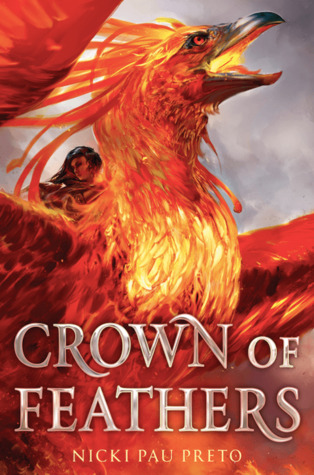 Synopsis:
I had a sister, once…
In a world ruled by fierce warrior queens, a grand empire was built upon the backs of Phoenix Riders—legendary heroes who soared through the sky on wings of fire—until a war between two sisters ripped it all apart.
I promised her the throne would not come between us.
Sixteen years later, Veronyka is a war orphan who dreams of becoming a Phoenix Rider from the stories of old. After a shocking betrayal from her controlling sister, Veronyka strikes out alone to find the Riders—even if that means disguising herself as a boy to join their ranks.
But it is a fact of life that one must kill or be killed. Rule or be ruled.
Just as Veronyka finally feels like she belongs, her sister turns up and reveals a tangled web of lies between them that will change everything. And meanwhile, the new empire has learned of the Riders' return and intends to destroy them once and for all.
Sometimes the title of queen is given. Sometimes it must be taken.
Q & A with Nicki:
Kat
: Would you like Crown of Feathers to ever become a movie? Why or Why not?
Nicki
: I'd love to see Crown of Feathers adapted into other media! One of my favorite things about fiction is how it inspires so many other forms of creativity—TV, movies, fan art, cosplay, music and aesthetics. Even audiobooks! While a live-action movie would be amazing, I'd also love to see COF in an animated adaptation…something along the lines of How To Train Your Dragon.
Kat
: Were there any challenges in writing multiple character POV's?
Nicki
: Crown of Feathers is the first multiple point-of-view book I've written, and I definitely underestimated how hard it would be. It can be so satisfying to read, but you have to carefully line up timelines and locations and reveals to ensure everything makes sense, or else it gets confusing and loses its momentum. It requires extensive planning. The other challenge is switching heads—you want to ensure each character's voice feels uniquely theirs, and that their emotions and reactions feel genuine.
Kat
: Have you always wanted to be a writer?
Nicki
: Nope! I think the first thing I wanted to be was a professional soccer player. Then probably an artist—drawing is the first thing I remember being naturally good at. Though I loved stories and had a powerful imagination, I didn't read my first novel until I was seventeen! I was a super reluctant reader (still am), and I was a very active kid—I played on every sports team, and usually had multiple practices and games each night. So I didn't spend a lot of time sitting at home with books. It wasn't until I started reading that I understood where to put all that creative energy I had pent up inside.
Kat
: How do you come up with names for your characters?
Nicki
: Many of the character names—like Veronyka—are real world names in which I've tinkered with spelling to make them fit my world building. But others—like Avalkyra—I invented, combining sounds and letters that were consistent with the others native to their culture. Some names, like Cassian and Tristan, are real names too, that I've left as-is.
Kat
: What behind-the-scenes tidbits in your life would probably surprise your readers most?
Nicki
: Probably the fact that, as I said above, I wasn't much of a reader growing up. But, I lived in the middle of nowhere, surrounded by trees, and I loved to wander the forest and play make-believe. We had a hill at the front of the house, and it was at times a castle, a space ship, a pirate ship, and many other things besides. I didn't know it at the time, but of course these were my earliest attempts at world building—and to this day, it's my favorite part of writing.
Kat
: Veronyka has many challenges that shape who she is. What life experiences have shaped your writing most?
Nicki
: Being alone a lot definitely helped to hone my creativity. I have two older brothers who used to hop on their bikes and peel down the driveway, leaving me to entertain myself. That was when I'd walk into the forest and invent worlds to play in.
Beyond that, I can point to three things that solidified my love of reading and my desire to be a writer—and they all happened in my teens, which might be why I write in this category. First, I read The Golden Compass by Philip Pullman, which was my first novel ever. Second, I saw the first two Harry Potter movies, and hastened to pick up the books. Lastly, I saw The Lord of the Rings movies. The Golden Compass kick-started my love for children's literature and made me want to be a writer; Harry Potter made writing look easy (which is quite hilarious, given how complex and well-written those stories are) and convinced me I could do it; and The Lord of the Rings introduced me to the epic fantasy genre, and I've never looked back.
My Review:
Since school has been hectic (three midterms in three days, what!?), I have not had a chance to finish this enchanting novel, but I could not resist sharing my thoughts so far!
This fantasy novel follows Veronyka, a teenager with the ambitious goal of becoming a Phoenix Rider - heroes who soar on fiery Phoenixes throughout the skies. After a great war between rival leaders, Phoenix Riders were forced into hiding, but Veronyka's dream to fly like the best of them still is fresh on her mind. She works to prove herself and join in the ranks of a growing Rider population, even if she must go undercover as a boy. As secrets are revealed and a battle brews, she will have to fight for herself, and those she loves, to make it out alive.
I absolutely love the numerous fantasy elements throughout the story. The descriptions of the Phoenixes are breathtaking to read. Veronyka is a strong character, fighting for what she believes in despite not having the support of her older sister. The writing style between multiple characters help readers get a greater understanding of the magical landscape and truly what is at stake, as the empire prepares to destroy the Phoenix Riders forever.
For fans of fantasy beasts and faraway lands, I highly recommend Crown of Feathers!
** Thank you to the amazing team at Simon & Schuster Canada for the opportunity to work with them and Nicki Pau Preto, so grateful !